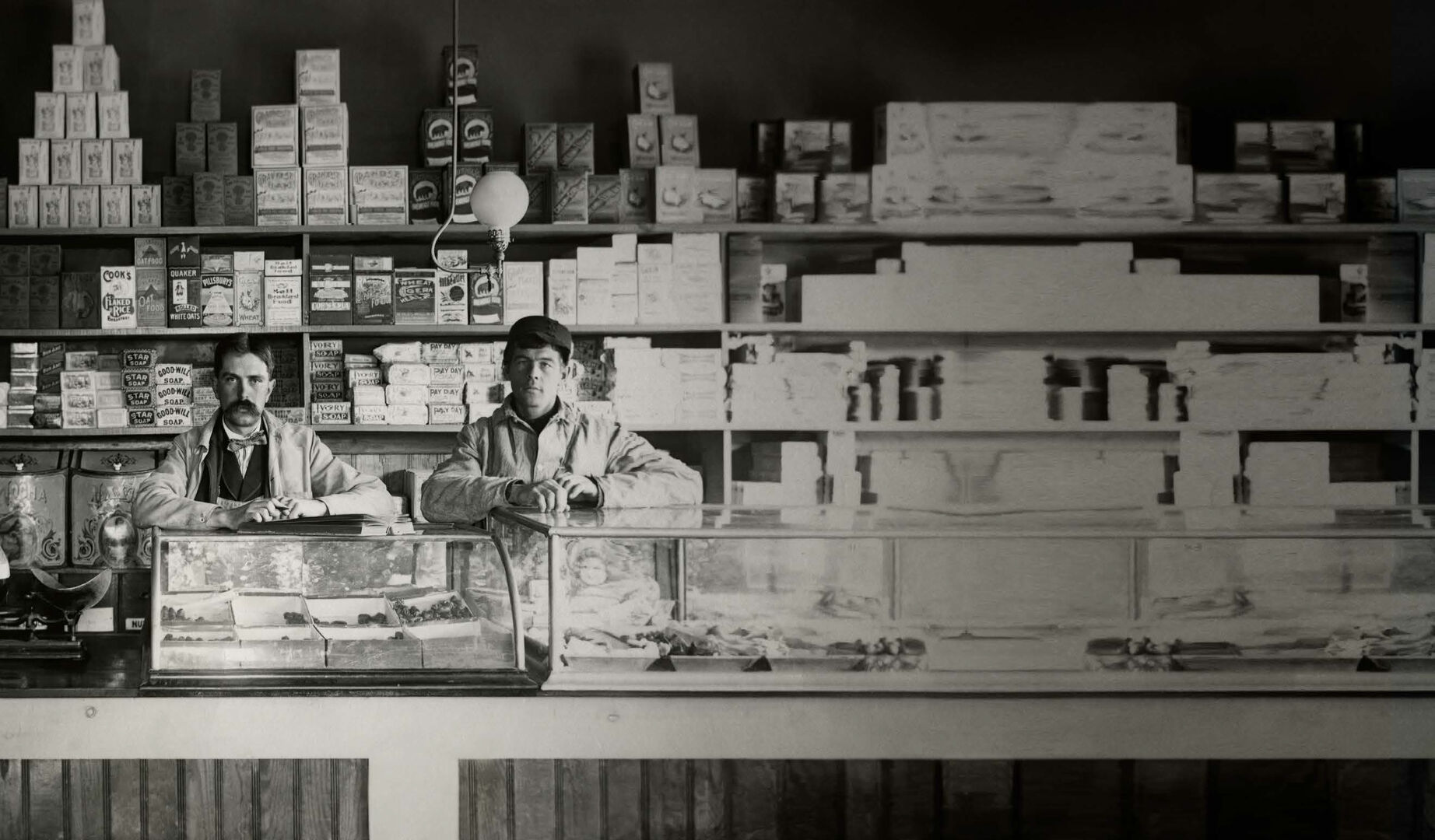 The evolution of loyalty in retail

Loyalty methods are evolving rapidly. Are you? Retailers have always understood the importance of developing a loyal customer base. So they've used different strategies over the years in order to gain a competitive advantage and differentiate themselves in a highly competitive industry offering a similar product mix. Jeff Berry, Research Director at Colloquy, takes us on a quick trip through the history of loyalty programs.
Timeless: A little extra, with a smile
Family-run stores and market stallholders have always known how to create loyalty in a very personal way. They made her feel special and appreciated by putting a small amount extra into the bag after weighing it or giving a sweet or piece of fruit to the customer's children. An approach that still works today.

The 1800s: Thanks for paying cash
The reward stamps system was the first method used to build customer loyalty and was very popular during the 19th century. Stamps were initially awarded to customers who paid with cash instead of credit but evolved into something given out when shoppers purchased enough goods.

1896: The first point-based loyalty initiatives arrive
The earliest cross-sector attempt at developing customer loyalty was when Sperry & Hutchinson began offering US retailers green paper stamps that could be redeemed for rewards. The intention was to increase expenditure and the frequency of visits by providing customers with an incentive to keep coming back. The retail organizations that distributed the stamps (primarily supermarkets, other shops, and petrol stations) bought the stamps from S&H and gave them away at a rate determined by the merchant. Some shoppers would choose one merchant over another because it gave out more stamps per dollar spent. In addition, collectors could exchange completed books of stamps for rewards, including housewares and other items, from the local Green Stamps store or catalog.

Whatever happened to them?
The program had its greatest popularity during the mid-1960s. The S&H' Idea book' contained 178 pages of items ranging from dish towels and ashtrays to fishing poles, bicycles, furniture, appliances, and a complete set of the Encyclopaedia Britannica. A series of recessions during the 1970s decreased sales of S&H stamps, together with those of their competitors. The value of the rewards declined substantially during the same period, too, requiring either far more stamps to get a worthwhile item or the need to spend money for an item that was barely discounted from the regular price, creating a general downward spiral as fewer and fewer people saw them as worth the trouble.

1921: Betty Crocker is born (as an attractive American adult)
Now a brand name and trademark of American Fortune 500 corporation General Mills, the name Betty Crocker was chosen as a way to give a personalized response to consumer product questions. By 1924, the all-American Betty had gained a voice (via an actress who portrayed her in radio shows), and in 1929 Betty Crocker coupons were introduced in bags of flour (for discounts on cookware). Over the years, Betty Crocker's image became so strong that many people thought she was a real person. Betty Crocker's success led to a large part of the Consumer Packaged Goods industry adopting the coupon model. After all, by the 1960s, food retailing had become so impersonal that the grocery assistant no longer had the time or opportunity to influence brand selection. Statistics of that decade reveal that of 20 leading manufacturers in the food industry, 14 were among the top 20 coupon producers.
Whatever happened to her?
Betty Crocker is still alive and well today, with an 11th cookbook published in 2011 and 17 recipe collections in print in 2015. However, the Betty Crocker Catalogue went out of business in 2006, and the online store launched in 2007 was discontinued shortly after.

1981: Reward programs with wings
When American Airlines introduced the AAdvantage frequent flyer programme, it was the modern era's first full-scale loyalty marketing programme. Its success soon inspired others: AirMiles was developed in the UK in 1987, and the concept spread to include other industries, including car rental, hotels, and credit cards.

1985: Tasty rewards
Subway sandwich store rolled out the Sub Card: a stamp-based loyalty programme. But, unfortunately, it eventually became a victim of its own success, as it had to be discontinued in 2005 due to fraud.

1990: Movie go-ers enjoy a premier
AMC Theatres introduced Moviewatcher, the very first customer rewards programme in the cinema sector. At a $12 annual fee, the recent change to AMC Stubs has prompted heated discussions on www.walletblog.com about the value of the discounts, points, and upgrades.

1991: A first for fashion
Nordstrom established the Nordstrom Fashion Rewards card when batwing tops and polka-dot jumpsuits were all the rage. Early access to sales, VIP events, and 'extraordinary experiences' ensure it's still relevant today.

1991: Technology overtakes coupons
With coupons losing their appeal, Quality Foods, an 8-store chain of Canadian supermarkets, was the first grocer in Canada to initiate a points-based loyalty card programme. "The technology didn't even exist then," says Ken Schley, the company president. "We had to develop it all ourselves, using our own staff. It was so leading-edge that we qualified for a scientific research grant."

1992: Coalition loyalty programs take flight
Around a decade after the first airline loyalty programme appeared, a different concept emerged in Canada. Instead of being sponsored by an airline or a single retailer, it would bring together a coalition of retail partners, all issuing a common loyalty currency that customers could redeem for rewards. As a result, participating retailers would benefit from sharing the costs of marketing and operating the programme. Even better, they would have a rich new source of data on customers' buying habits, which in turn would yield valuable insights to help the retailers market their products more effectively and build deeper long-term relationships. In its first 6 months alone, the Canadian AIR MILES® Reward Programme attracted nearly 2 million collectors, whose numbers have grown to over 10 million today.
What scares me about this is that you know more about my customers after three months than I know after 30 years.
Lord MacLaurin, Tesco Chairman, in 1995 talking about Clubcard Rewards
1995: From paper to plastic
Tesco in the UK introduced Clubcard Rewards, the first card-based loyalty programme. The first response from the board came from Tesco's then-Chairman Lord MacLaurin, who famously said, "What scares me about this is that you know more about my customers after three months than I know after 30 years." By 2014, the Tesco Clubcard had over 16 million active users.

1996: Sainsbury's joins the club
The success of the Tesco Clubcard inspired Sainsbury's to launch its own Reward Card. By 2002, this had morphed into the Nectar Card, which is currently the largest (coalition) loyalty programme in the UK with 19 million users. However, Sainsbury's recently infuriated customers by informing them that the number of points they would receive would be cut in half as of April 2015. On Sainsbury's Facebook page, one wrote: "Ridiculous to lower the number of Nectar points… does Sainsbury's not make enough money?" Another tweeted: "Thanks, @sainsburys for halving the Nectar points we get from you. It makes @waitrose and the new M&S Sevenoaks and Lidl even more appealing."

Millenium: Getting personal
By the start of the new century, in addition to being rewarded for their loyalty, customers were being offered more personally relevant experiences and rewards. This was made possible by technological advances that enabled retailers to collect and analyze purchasing data. PersonalizingAs a result, personalizing the value proposition to cater to individual needs and preferences proved profitable and increasingly became standard practice for loyalty programs.

2001: Enjoy your stay
The Kimpton InTouch loyalty programme was unusual as it was based on preferences instead of points. Today, it still works this way, offering its members relevant treats such as free WiFi, your favorite snack and drinks upon arrival, and exclusive permission to 'raid the minibar.'

2008: Conquering the 'third space'
Coffee lovers looking forward to a moment of relaxation rejoiced at Starbucks' introduction of quick, instant rewards such as a complimentary top-up or a free shot of flavored syrup for customers with a Gold Card. Location-based technologies now also make it possible to welcome customers by name as soon as they step over the threshold and prepare their favorite coffee without the customer having to ask for it.

2011: Wave goodbye to plastic cards
RewardMe introduced a cardless loyalty solution for the USbased Mooyah Burgers and Fries franchise whereby customers entered their mobile number on an iPad screen to join the programme and earn points.

2013: Russia joins the loyalty app revolution
Two years ago, Russia's largest food retailer Azbuka Vkusa became the first chain to offer digital and paper stamps via the Bright Stamps app on mobile phones. Text messages and gamification elements encouraged participation and rewarded extra visits.
2015: Mobile becomes the new norm
Smartphone-enhanced shopping is becoming an indispensable part of consumers' lives. Apps such as Bright Shopper help customers create their own smart shopping list, while Bright Promo enables them to discover offers with their tablet or mobile phone. Invisibly present in the background are data collection and analysis technologies that enhance personalization for consumers while giving retailers new revenue opportunities.

2050: Sci-fi becomes a reality?
By the middle of this century, customers may well be earning points and redeeming rewards through facial or retina recognition. But, of course, this was forecast years ago by Hollywood: in the film Minority Report, retina scanning is commonplace, enabling ID checks to take place to authorize you to step onto public transport, for instance. Think that's far-fetched? No - in fact, iris scanning has already been in use at international airports for a number of years. It is, for example, used at Amsterdam's Schiphol Airport to speed identification of Privium members as shown in the film Gattaca, whether we get as far as DNA profiling is a matter of debate.

Pathway to the future
Customers are a diverse bunch. Due to the growing use of digital media to communicate, today's customer increasingly expects retailers to reach her through the same channels as her friends do.
For today's customer, quality and great service are an expectation; unique experiences are the point of differentiation. However, customers are multi-dimensional, and the same value proposition is not universally appealing: each customer places different importance on value, digital access, and experiences. In an interconnected world, customers want more in return for their loyalty – and they're checking with their peers to find the best deals. Tomorrow's grocer needs to use multiple tactics in an integrated manner that appeals to a specific customer's needs at a set point in time. This type of capability is only possible through a data platform (such as those offered by Precima) in which customer data from all touchpoints can be centralized and analyzed to provide a customized value proposition to each individual.

To see the way forward, it's worth looking at the lessons offered by the past. Loyalty programs that have evolved have survived. Those that became irrelevant or outdated didn't. The technology to build brand awareness in the short term and strong customer relationships in the long term is here today. Grocers who take advantage of an integrated data platform to tailor incentives to each customer will be far ahead of their competitors. And closer to their customers than was ever possible before.
---
Hearts & Wallets is the official magazine of BrandLoyalty. It is a magazine for people working at the highest levels of the food retail industry. The goal of Hearts & Wallets is to come up with real insights on - and answers to - current issues while offering its own individual interpretation as food for thought.

First published in April 2015
Want to receive Hearts and Wallets?
Hearts and Wallets is available to you digitally or in print, to add your name to the distribution list contact us below.
Request Hearts & Wallets
More about our company?
Learn more about our vision and our loyalty family, including Alliance Data and Loyalty One.
Go to overview