The evolution of loyalty in retail
Take a quick trip through the history of loyalty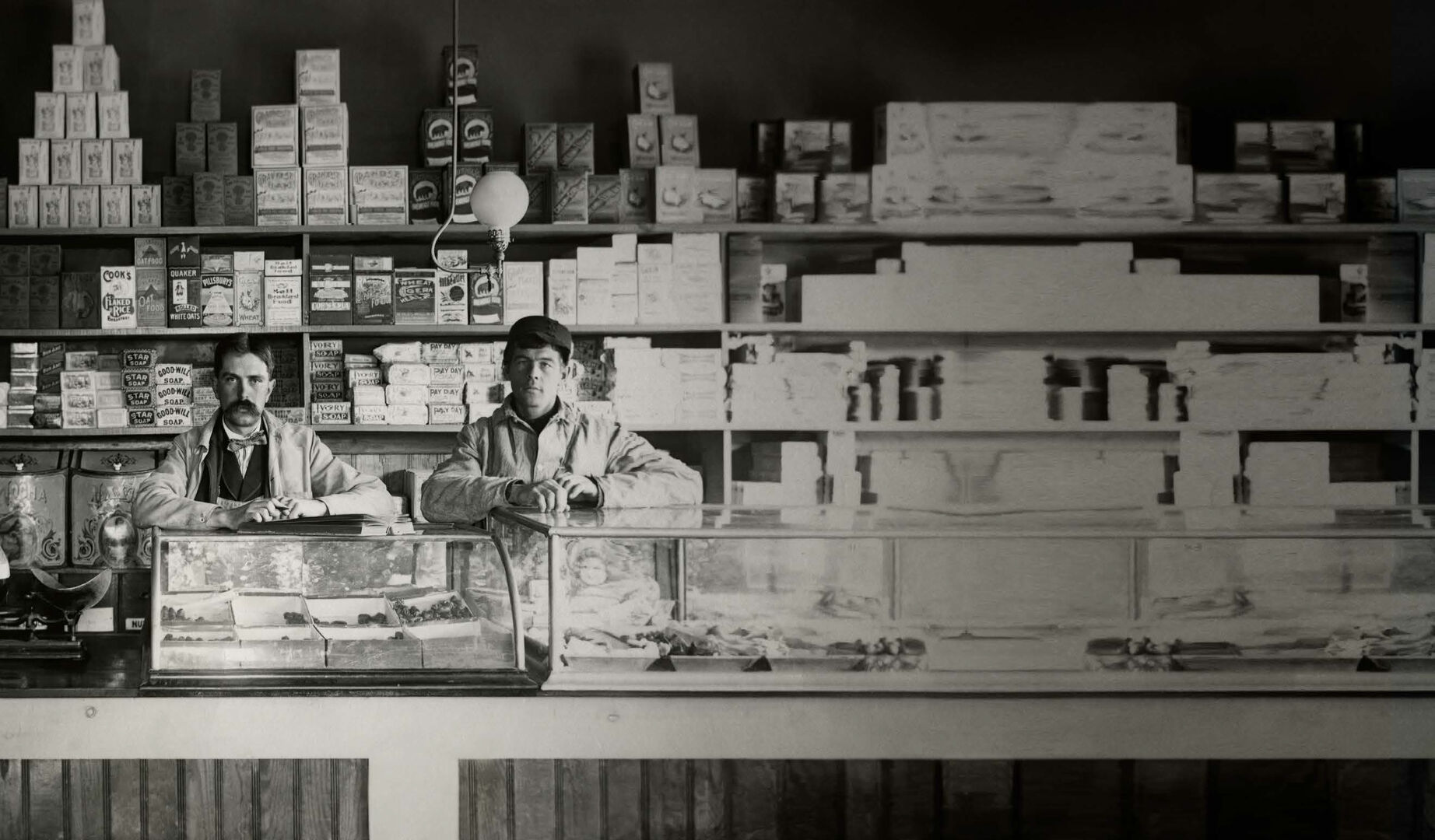 Retailers have always understood the importance of developing a loyal shopper base. So they've used different loyalty strategies over the years to gain a competitive advantage and differentiate themselves in a highly competitive industry. Let's take you on a quick trip through the history of loyalty programs.
Timeless: A little extra, with a smile
Family-run stores and market stallholders have always known how to create loyalty in a very personal way. By putting a small amount extra into the bag after weighing it, or by giving a sweet or piece of fruit to the shopper's kids, they make you feel special and appreciated. An approach that still works today.

1793: Tokens of appreciation
The first forms of loyalty campaigns trace back to 1793, where retailers would give their shoppers a copper coin as a reward for their loyalty, which they could redeem for future purchases. As retailers quickly realized that these copper tokens of appreciation were an expensive way of boosting loyalty, the transition to less expensive tools began.

1896: The first point-based loyalty initiatives arrive
The earliest cross-sector attempt of developing customer loyalty was when Sperry & Hutchinson began offering US retailers green paper stamps that could be redeemed for rewards. The intention was to increase expenditure and the frequency of visits by providing customers with an incentive to keep coming back. The retailers that distributed the stamps bought the stamps from S&H and gave them away at a rate determined by the merchant. Some shoppers would choose one merchant over another because it gave out more stamps per dollar spent. Collectors could exchange completed books of stamps for rewards, including housewares and other items, from the local Green Stamps store or catalog.
The mid-1900s: Boxed loyalty
The next phase in the evolution of loyalty was the introduction of boxtops. Boxtops are coupons that are printed onto the packaging of products that could later be redeemed against premiums or rewards. One of the boxtops pioneers was Betty Crocker, now a brand name and trademark of American Fortune 500 corporation General Mills. Betty Crocker's success led to a large part of the FMCG industry adopting the coupon model.

The Betty Crocker brand is still alive and well today, with over 5 million Facebook and 2,5 million Pinterest followers. However, the Betty Crocker Catalogue retired in 2006, and the online store launched in 2007 was discontinued shortly after.
1981: Reward programs with wings
When American Airlines introduced the AAdvantage frequent flyer program, it was the first full-scale loyalty marketing programme of the modern era. Its success soon inspired others: AirMiles was developed in the UK in 1987, and the concept spread to include other industries including car rental, hotels and credit cards.

1991: A first for fashion
Nordstrom established the Nordstrom Fashion Rewards card when batwing tops and polka-dot jumpsuits were all the rage. Early access to sales, VIP events, and 'extraordinary experiences' ensure it is still relevant today, but now revamped to 'The Nordy Club'.

1991: Technology overtakes coupons
With coupons losing their appeal, Quality Foods, an 8-store chain of Canadian supermarkets, was the first retailer in Canada to initiate a points-based loyalty card programme. "The technology didn't even exist then," says Ken Schley, the company president. "We had to develop it all ourselves, using our own staff. It was so leading-edge that we qualified for a scientific research grant."

1992: Coalition loyalty programs take flight
Around a decade after the first airline loyalty program appeared, a different concept emerged in Canada. Instead of being sponsored by an airline or a single retailer, it would bring together a coalition of retail partners, all issuing a common loyalty currency that customers could redeem for rewards. Participating retailers would benefit from sharing the costs of marketing and operating the programme. Even better, they would have a rich new source of data on shoppers' buying habits, which in turn would yield valuable insights to help the retailers market their products more effectively and build deeper long-term relationships. In its first 6 months alone, the Canadian AIR MILES® Reward Programme attracted nearly 2 million collectors, whose numbers have grown to over 10 million today.
What scares me about this is that you know more about my customers after three months than I know after 30 years.
Lord MacLaurin, Tesco Chairman, in 1995 talking about Clubcard Rewards
1995: From paper to plastic
Tesco in the UK introduced Clubcard Rewards, the first card-based loyalty program. The first response from the board came from Tesco's then-Chairman Lord MacLaurin, who famously said, "What scares me about this is that you know more about my shoppers after three months than I know after 30 years." By 2017, the Tesco Clubcard had over 17 million active users. The success of the Tesco Clubcard inspired Sainsbury's to launch its own Reward Card. By 2002, this had morphed into the Nectar Card.
1995: Campaign-based loyalty on the rise
The late 90s has seen a rise in short-term loyalty campaigns. Ever since BrandLoyalty's founding on the 1st of June, 1995, the potential of campaign-based loyalty programs can't be ignored. Depending on the retailer's objectives, a loyalty campaign brings excitement to the shop floor and changes shopper behavior significantly. Increasing footfall or making loyal shoppers more loyal – it is all based on the right mechanics, rewards and shopper activation efforts.

Millenium: Getting personal
By the start of the new century, in addition to being rewarded for their loyalty, customers were being offered more personally relevant experiences and rewards. This was made possible by technological advancements that enabled retailers to collect and analyze purchasing data. Personalizing the value proposition to cater to individual needs and preferences proved profitable, and increasingly became standard practice for loyalty programs.

2008: Conquering the 'third space'
Coffee lovers at Starbucks could get instant rewards such as a complimentary top-up or a free shot of flavoured syrup for customers with a Gold Card. After launching a card-based loyalty programme, Starbucks enables mobile payment into its app. For a while, Starbucks was the most-used mobile payment app until ApplePay took it over in 2019. Over 30 million people were ordering coffee through the app, and the number continued to grow.

2011: Wave goodbye to plastic cards
RewardMe introduced a cardless loyalty solution for the US-based Mooyah Burgers and Fries franchise whereby customers entered their mobile number on an iPad screen to join the programme and earn points.

2013: Russia joins the loyalty app revolution
Russia's largest food retailer Azbuka Vkusa became the first chain to offer digital as well as paper stamps via BrandLoyalty's Bright Loyalty Platform. Text messages and gamification elements encouraged participation and rewarded extra visits.
2019: A game-like progression in loyalty
The Chinese grocery retailer Hema (also known as Fresh Hippo), part of the Alibaba Group, is a pioneering and leading 'New Retail' chain. With surprises along the way, BrandLoyalty and Hema have been able to increase engagement with the Hema app by adding emotion to the shopping journey. By offering a game-like progression and a mini-loyalty programme, Hema encouraged its shoppers to discover all it has to offer.
2020: Loyalty in the new normal
After a crisis or big life event, people re-evaluate all levels of Malsow's pyramid of needs to ensure that their lifestyle and (purchase) behaviour still fulfils their needs in their new everyday context. The COVID-19 pandemic has made retailers reclaim its rightful position as the cornerstone of society. It forced shoppers to evolve, transform and grow. As shoppers were reconsidering their loyalties, loyalty has become more important than ever before.
2021: Empathy will drive the digital shopper journey
We're in the midst of a retail revolution. Think about the upsurge of online grocery shopping, the rise of dark kitchen formats and fast-delivery giants across the globe but also the increased number of retailers offering fintech solutions. Interestingly, once shopper journeys are digitalised, all empathy disappears. That's why BrandLoyalty designs loyalty campaigns to engage throughout the shopper journey by incorporating 360-degrees marketing principles, through gamification elements and by smart & creative campaign activation. Empathy is a crucial attribute if you wish to create a lasting and positive impact amongst your shoppers. Without empathy, you won't be able to see what they are seeing and understand their experience the same way they do.
2035: From copper coins to bitcoins
Starbucks now allows its members to turn their cryptocurrencies into cash via its app, Whole Foods has partnered with spending app Spedn so its shoppers can pay for their groceries via cryptocurrency. Cryptocurrencies are revolutionizing the way brands can reward and retain their customers.

2050: Net zero emissions
By the middle of this century, the global economy has become carbon-neutral, forcing the retail landscape to change significantly. Shoppers are becoming more conscious about their footprint and want retailers to support. Think about loyalty campaigns that could offset your shoppers' environmental footprint, or campaigns that encourage shoppers to become more responsible.
Pathway to the future
Customers are a diverse bunch. Due to the growing use of digital media to communicate, today's shoppers increasingly expects retailers to reach them through the same channels as their friends do.
For today's shopper, quality and great service are an expectation; unique experiences are the point of differentiation. However, customers are multi-dimensional and the same value proposition is not universally appealing: each customer places different importance on value, on digital access, and on experiences. In an interconnected world, customers want more in return for their loyalty – and they're checking with their peers to find the best deals. Tomorrow's retailer needs to use multiple tactics in an integrated manner that appeals to a specific customer's needs at a set point in time.

To see the way forward, it's worth looking at the lessons offered by the past. Loyalty programmes that have evolved have survived. Those that became irrelevant or outdated didn't. The technology to build brand awareness in the short term and strong customer relationships in the long term is here today. Retailers who take advantage of an integrated loyalty strategy to tailor incentives to each shopper will be far ahead of their competitors. And closer to their shoppers than was ever possible before.
---
Hearts & Wallets is the official magazine of BrandLoyalty. Hearts & Wallets gives real insights on - and answers to - current issues, while offering its own individual interpretation as food for thought.

First published in April 2015, updated in September 2021
More about our company?
Learn more about our vision and our loyalty family, including Alliance Data and Loyalty One.
Go to overview
Want to receive Hearts and Wallets?
Hearts and Wallets is available to you digitally or in print, to add your name to the distribution list contact us below.
Request Hearts & Wallets