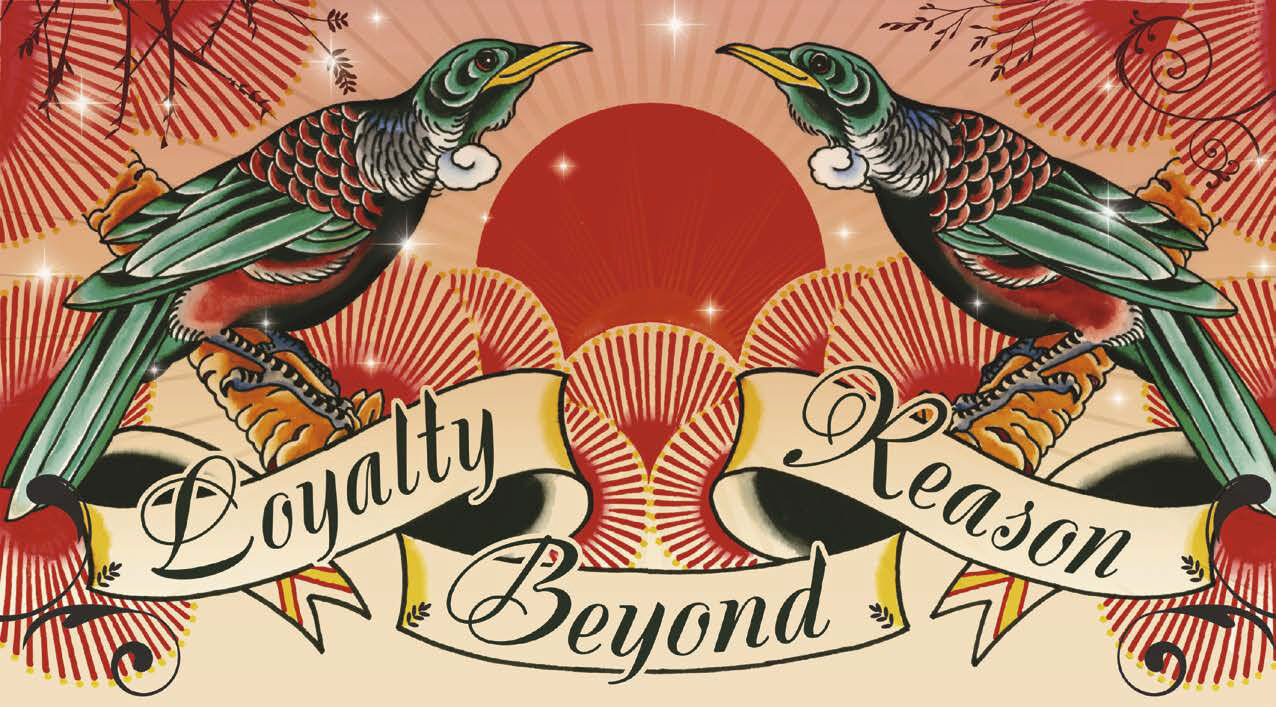 Creating loyalty beyond reason
The CEO of LoyaltyOne has spent the last 25 years in the industry, and never shys away from the next loyalty challenge. During his time as CEO of BrandLoyalty Hearts & Wallets caught up with him to find out more about the man behind loyalty.

BrandLoyalty Reloaded is the title of the Red Paper published by Kevin Roberts, Executive Chairman of Saatchi & Saatchi. Why red rather than white? Because red is the colour of passion, hope and optimism. And because it's time to move to a more vivid and heartfelt consumer experience. Here's a quick digest of what one of the brightest thinkers in adland has to say.
'Lovemarks: The future beyond brands' is now a daily reality
A decade after writing his ground-breaking book showing how emotion can inspire businesses and brands to deliver sustainable value, Kevin Roberts goes bang up to date with his views on brand loyalty as it applies to the marketing imperatives of 2015. For a CEO, brand loyalty is the ultimate business deliverer: a flow state that's hard to achieve and easy to lose, being more alchemy than science. Yet today more than ever, mastering the emotional dimensions of marketing is by far the most important requisite of an enterprising life in business.
Brand loyalty: Physics vs. biology
Worldwide, half a trillion dollars are invested annually in advertising – in media spend alone – to achieve the state of nirvana known as brand loyalty. The original notion of brand loyalty was that repeat buyers are more profitable than acquiring new ones. They return a higher margin, are stronger recommenders, and require fewer special deals and pricing offers than it would cost to acquire new customers. The 'physics' of this equation remain unchanged.

In a perfect world, returnees and recommenders are the most valuable customers that any CEO, CFO or CMO could have. They just want more of them. But the 'biology' of the situation is that consumers are human beings with imperfect, changeable, and emotionally influenceable behaviour. So even in this complex multi-channel, multi-choice era, winning loyalty remains a very real and important focus. This is simple economic common sense; it always was, and always will be. As emotion is the primary driver of loyalty, marketers will be lost if they don't get to the nub of how people feel. The goal of brand communication should be to achieve 'Loyalty Beyond Reason.'

From brands to Lovemarks
By the beginning of this century, continuous quality improvements in manufacturing, distribution, service, price and promotion had led largely to brand parity. Lovemarks mapped out new territory where brands would be eclipsed by rich emotional fields: associations owned not by companies, but by their customers. Such connections, inspired by deeply shared human emotion, would form an attachment that brands could no longer achieve.

The effect of a Lovemark was 'Loyalty Beyond Reason' – beyond price, beyond attribute, beyond benefit. Lovemarks go beyond rational factors into the emotional territory of Mystery, Sensuality and Intimacy. Lovemarks recognise that the heart rules the head in decision-making. Moreover, when a deep emotional connection is cultivated, it protects against preference attacks from competitors touting new features, deals and designs. Take a brand away and people will find a replacement. Take a Lovemark away, and people will protest.
Brands are in a bind
With more brands, more choices and more deals for brandfatigued, tech-enabled and 'entitled' consumers, customer loyalty has become harder to retain. Furthermore, commanding premiums – the very reason brands were invented – has become harder. Brands that manipulate, under-deliver or over-price get seen through instantly. Consumers expect more for less, and can switch faster.

Critically, people's emotional expectations of brands are on the rise. There is a thirst for authentic connections. Passive consumers are being replaced by active brand voters who opt into a brand ethos that meshes emotionally with their own lives. The turnkeys of success are interactivity, indispensability – and most vitally, irresistibility. This is where love plays and loyalty is formed and fortified. Loyalty will matter for brands because bringing an audience back again and again, through thick and thin times, and for more – and with others – is a profit growth engine. Falling loyalty levels simply reflect failure to meet rising emotional demands. The opportunity to stand out is massive for brands that deliver big on emotion.

Loyalty is a two-way deal
Lovemarks theory recognises that people personify the world around them and feel they have relationships with products, services, companies and countries, not just with other people.
So brands are increasingly trying to behave like people, to be more intimate as marketing shifts away from a many-to-one towards a one-to-one interactive model. Research shows that people prefer brands that behave like human beings.

The double edge of technology – the power to be ubiquitous and intimate – has both challenged and empowered brands to get up close to people and touch their lives. More and more brands are customising, personalising, interacting with, and anticipating people's needs and desires. Consumers love the brands that love them back; loyalty is now a two-way street. And consumers agree that any loyalty they feel toward brands in the future will have to derive from the types of experiences brands create for them.

Loyalists are a brand's MVP (most valuable player)
Loyalty exists on a spectrum. Outside fairy stories, loyalty is rarely absolute, and 'Loyalty Beyond Reason' is not a claim to 100% loyalty. After all, loyalty in human relationships gets tested and can be betrayed. So it goes in a commercial brand equation, inevitably more so. A company can get anyone to buy something once, including using sheer physical presence. The reason that repeat purchase is hard is that it means delivering what matters most to people in a particular space, every time, with an experiential emotional interface, be it an empathetic screen anticipating your every next question and instinct, or an aisle which provides some delight or decent signposting. Loyalty is an emotional property, and emotion can be built without limits. Any brand can become a Lovemark. Many brands are in the hands of the salespeople, shelf stackers, cashiers on the floor; retailers, merchandisers, dealers. These vital intermediaries can communicate the bonds that build loyalty in seconds. And the people who have unequivocal loyalty for brands have unprecedented power to attract and convert fellow enthusiasts. Fans are not usually a numerically significant percentage of a brand's overall buyers but have outsize impact on building a winning brand. 'Superconsumers' combine high engagement with big spending and strong interest in new uses – and account for at least three times as much growth as other consumers. Brands need to find, nurture and leverage their fan base.
Five ways brands must act to survive and thrive in the consumer age
#1. Be inspirational
Winning as a brand demands a climate where creativity can thrive, where diversity is standard, and where ideas fly in all directions all of the time. This means building environments that physically and emotionally inspire everyone in the brand's orbit.

#2. Be participatory
Smart brands ride the power surge to consumers. Connectivity, creativity and collaboration are the road to victory. Brands that put up walls will die. The new ROI is Return on Involvement.

#3. Be Visual
People today are aesthetically adept; they process images thousands of times faster than text, and love to share cool imagery. We are drawn to beauty and universality. In Lovemarks, this is the vision button. The visual story of a brand is its life journey.
#4. Be fast
Priceless value arrives on time, and whether we're talking curing killer diseases or simply feeding the kids, there is less time available for people than ever. Across production, distribution and communication, brands have a need for speed. "Test fast, fail fast, adjust fast" could just be the business line of the century.

#5. Be intimate
Brands are becoming human relationships, and the strongest relationships are intimate. The more social that brands act, the more friends they make, the more they cultivate their friendships, the better they do. The more empathy, trust and love that brands stream out, the more comes back.
Brand loyalty catalyst: Creative Leadership
The more unremarkable brands get, the more valuable ideas become. Cultures that have the most ideas are best placed to win, because creativity has unreasonable power.

Companies have to be very active about having ideas. The classic top-down leadership model is not flexible enough or fast enough for our high-speed connected age. It can't meet the innovation standards that both new and loyal customers now demand. Future leadership has to be based on creating a culture where the production line generates one thing, day after day: ideas that solve everyday consumer problems. The CEO's challenge is to inspire the creative people (the pirates, the mavericks, the free thinkers) who love the enterprise, and let their passions scale the company.

Pushing ads at brand-weary audiences is dead. The business of communications is about partnering to create and execute ideas bigger than advertisements. This demands agile teams across advertising, technology, design, media, PR and the audience itself. It requires rapid response in everything from curating content to crowd-sourcing ideas.

Emotion is the driver of sales
The more embedded that quality, service, distribution and performance become, the more the degree of emotional experience is the difference. A premise of Lovemarks is that they come from a bigger place than 'selling stuff.' Regardless of category, Lovemarks aim to make the world a better place with what people care about, not jog people's memories with what they care less about. Consumers are asking, "How does this brand improve my life?" and "How do I feel about this brand?" These questions are a call for emotional engagement from brands.

When emotion makes people feel something deeper, it makes them want to share it. Emotion leads to action. Sharing emotions – especially online – leads to increased brand perception. In B2B, personal value (based around emotion) has twice as much impact as business value (based around logic/ reason).

Big data needs love
We have entered an era of data mining, excavating, crunching, modelling, measuring, predicting, visualising, automating, tracking, sensing, monitoring, targeting and deciding. Big Data plays at every decision point in every industry, from purchase through to performance. Data is in the midst of everything. It is a dream scenario for brands to find their audiences, know individuals backwards, discover what counts for them, and deliver at warp speed.

But Big Data needs Big Emotion, because algorithms will never read and respond to humans the way humans do. The Big Data machine can read the lines, but not between them. Until data is flesh and blood, it will be the incalculable factors, the unexplainable pulses and the mind-blowing ideas that fly the machine over the line.
Love wins on all levels
Winning as a brand is not just about selling more. Notably, it's also about selling for more. As brands become more commoditised, the ability to charge a premium grows more valuable. Emotion is the key to premium returns. Lovemarks drive premium margins.

With the rise of emotional expectations, value-for-money is but a factor of the consumer value equation. A Lovemark delivers 'priceless value', which answers a thirst for purpose, experience and community. Being able to access that feeling by coming back to a brand again and again is a key to success.

Five ways to win
Brands are in a tougher era from the one they grew up in. While consumers expect more from brands than ever to earn their loyalty in the technological century – from offers, rewards and time-saving methods to empathetic interfaces and unique experiences – and can switch brands faster, the potential for a brand to deliver on heightened emotional demands is greater than ever.

The irony is that while loyalty was never easier to lose, it has never been easier to win for a brand that is emotionally wired. The opportunity – not just to drive repeat sales but also to command premiums, build share and extend range – is great for a brand that understands its audience and can unlock Mystery, Sensuality and Intimacy to meet their emotional expectations. The evolved brands we call Lovemarks have always done this. People love them, buy them and come back far more consistently because these brands respond to what people care about. They are emotionally-tuned, emotionally-capable and emotionally executed. This is the new standard.

Believing it is special
A brand may not be your soulmate, but a great brand – a Lovemark – can be your best friend, earning your trust, affection and enduring loyalty. The kind of loyalty that's based on an emotion so strong that it becomes a belief. Lovemarks are special. They're irresistible, irreplaceable, and they can be created if you believe in them enough. To put it simply: "To make anything special, you have to believe it is special."
---
Hearts & Wallets is the official magazine of BrandLoyalty. It is a magazine for people working at the highest levels of the food retail industry. The goal of Hearts & Wallets is to come up with real insights on - and answers to - current issues, while offering its own individual interpretation as food for thought.

First published in April 2015.
More about our company?
Learn more about our vision and our loyalty family, including Alliance Data and Loyalty One.
Go to overview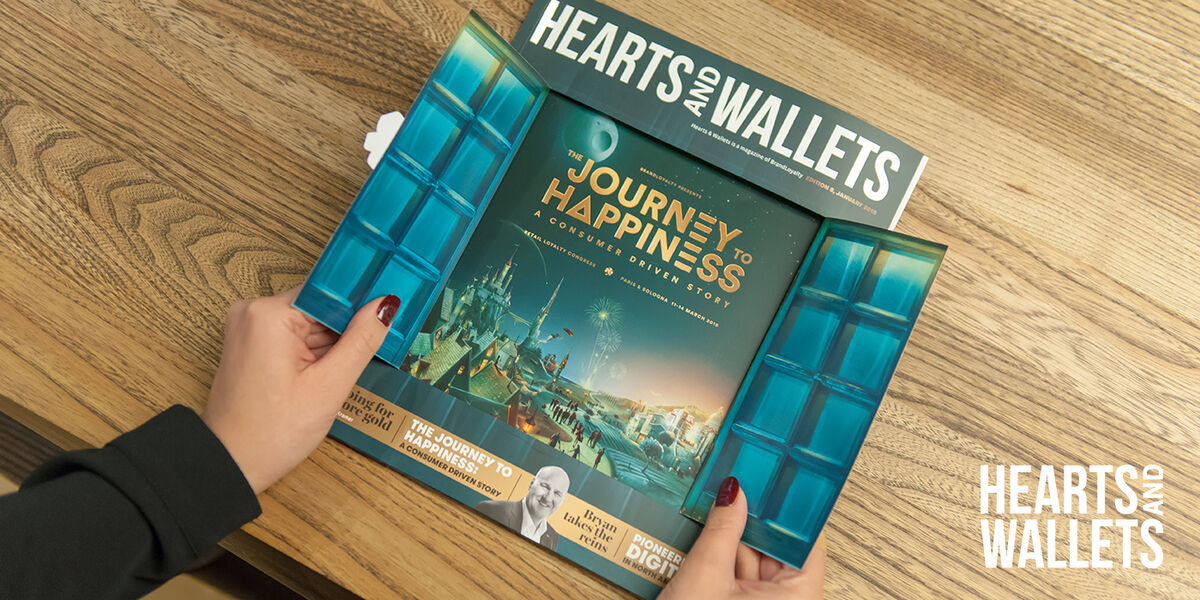 Want to receive Hearts and Wallets?
Hearts and Wallets is available to you digitally or in print, to add your name to the distribution list contact us below.
Request Hearts & Wallets