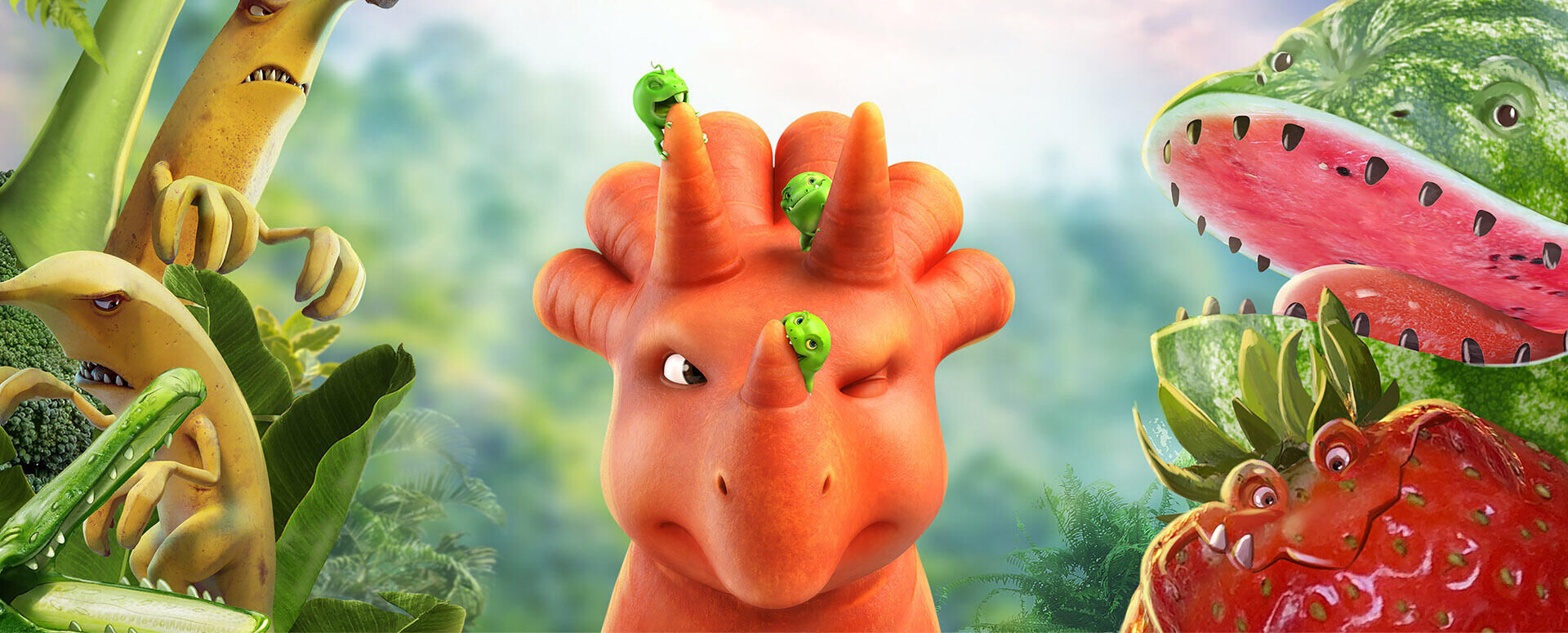 Studio 100 Media partners with BrandLoyalty on Vegesaurs
5 min
Studio 100 Media has joined forces with BrandLoyalty for international loyalty campaigns, signing a five-year agreement.
While the content for the CGI-animated preschool series "Vegesaurs" is still in production, Studio 100 Media has joined forces with BrandLoyalty for international loyalty campaigns, signing a five-year agreement. BrandLoyalty sees a perfect fit between the themes addressed by "Vegesaurs" and those that are current with food retailers around the globe. As such, there is a big potential of the "Vegesaurs" brand in loyalty campaigns.
All 20 episodes, each with a runtime of five minutes and thus perfect for digital distribution will be available in fall 2022. Studio 100 Media is aiming to distribute them not only to broadcasters but also to place them on e.g. YouTube to generate a viral buzz to drive consumer awareness among kids and their parents.
"Vegesaurs" are vegetable and fruit-shaped dinosaurs ready to address and teach relatable themes for upper preschoolers such as getting to sleep, sharing, friendship, nurturing mealtimes, and play. Starring the lead character Ginger, a young Tricarrotops (carrot) with others including P(ea)-Rex, Cornasaurus (corn), Bananaraptor, Coconutdon, Broccolisaurus, Bokchoydactyl, Tomatodon, Appleflyrus, and Potatodon, "Vegesaurs" are here to enrich and enhance the imagination.
"We are delighted to be able to partner with Studio 100 on the upcoming "Vegesaurs" series. A continuing focus for food retailers is encouraging children to choose healthier options, and therefore making vegetables fun through the "Vegesaurs" is a perfect way to connect with kids across the globe."
Claudia Mennen, CEO BrandLoyalty
"Vegesaurs" is an action-comedy CGI-animated TV series (20 x 5'), produced by independent Australian producer Cheeky Little for the Australian Broadcasting Company (ABC) and France TV. Principal production funding is provided by Screen Australia, with Studio 100 as co-investor. Based on a concept created by Gary Eck and Nick O'Sullivan, the series is targeted at preschoolers and planned for delivery in 2022. ABC will broadcast it in Australia under the title "Ginger & the Vegesaurs". Studio 100 Media is responsible for the worldwide distribution of content and licensing & merchandising rights of this delicious series.
Find out more about our partners
Find out more about all of BrandLoyalty's partners, including The Walt Disney Company, and how they can help boost loyalty in your store.
Read more
Discover Studio 100
Studio 100 was founded as a TV production company back in 1996 and has always pursued the same goal up until today: producing engaging content which is not only entertaining, but also educational for today's children and their parents.
Read more