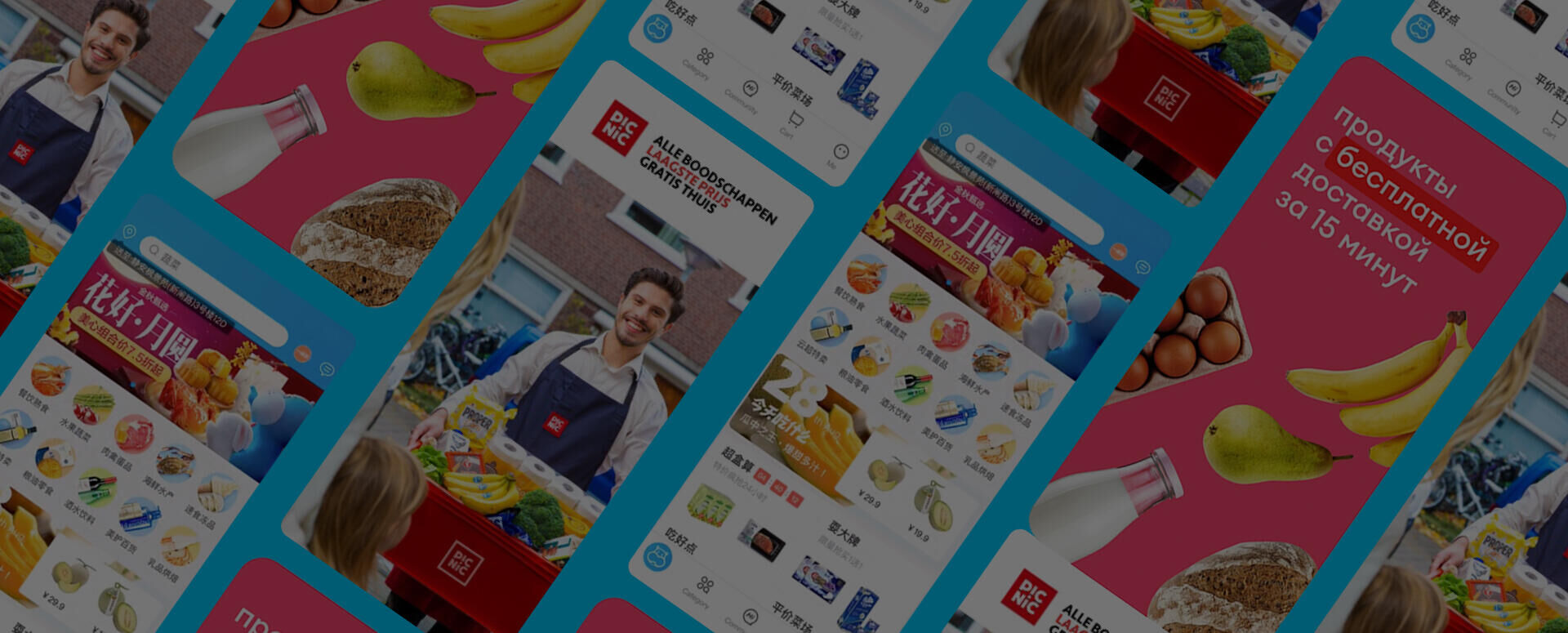 Online natives of food retail around the globe
Things we see in retail and loyalty, a news deep dive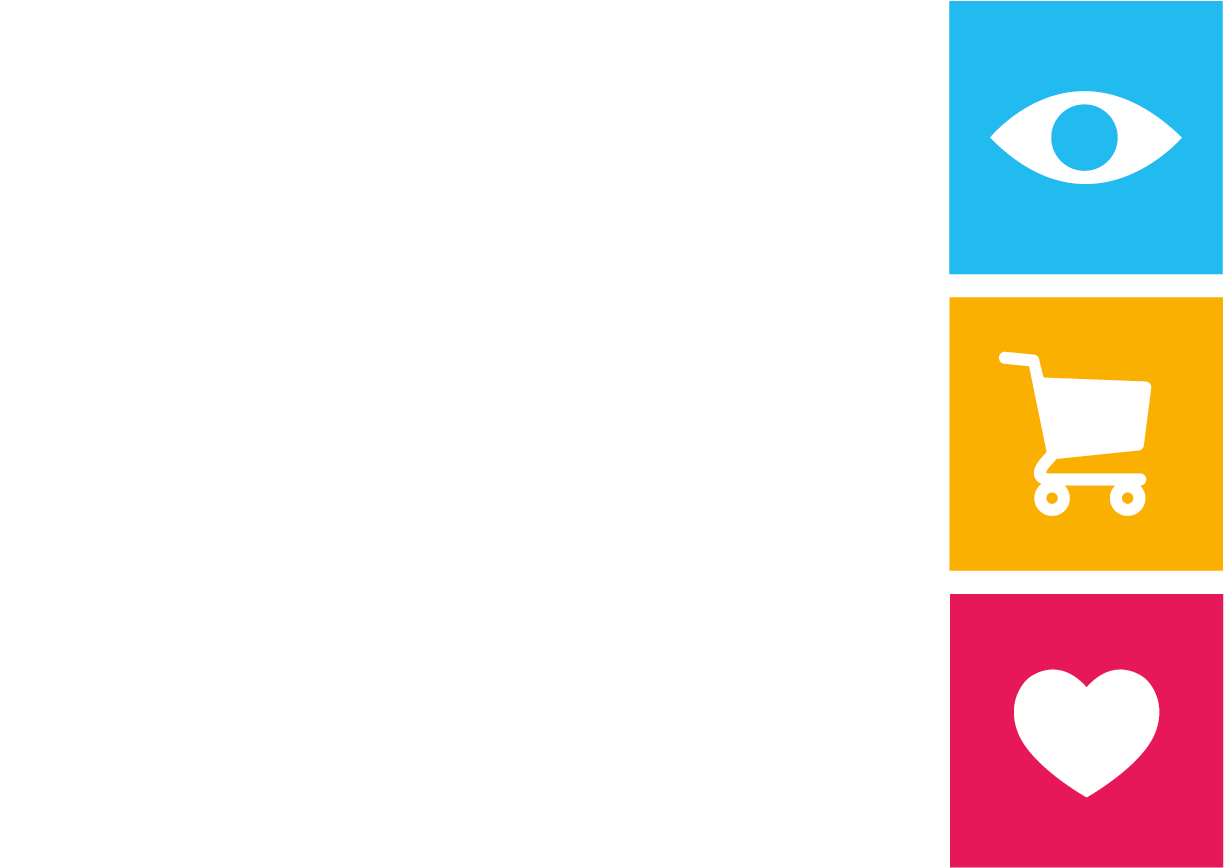 Samokat in Russia, Alibaba's Freshippo in China, and Picnic in the Netherlands are online natives in food retail around the world and are currently disrupting the market. These 3 online players around the globe are hot, but why?
Samokat
Samokat is a highly innovative pure online player from Russia and is very popular. Its service is now available in Moscow & St. Petersburg and is expanding rapidly. Samokat means 'kick scooter' and they deliver your groceries to your house, super fast via bikes and cars. Their proposition is simple & strong:
Groceries delivered to your house in 15 minutes, max 30 minutes
No order minimum; even for a chocolate bar they deliver to your home
Deliveries are always free of cost
App-only
It is 'order now'-only; so it is not possible to schedule your order, e.g. for another day or time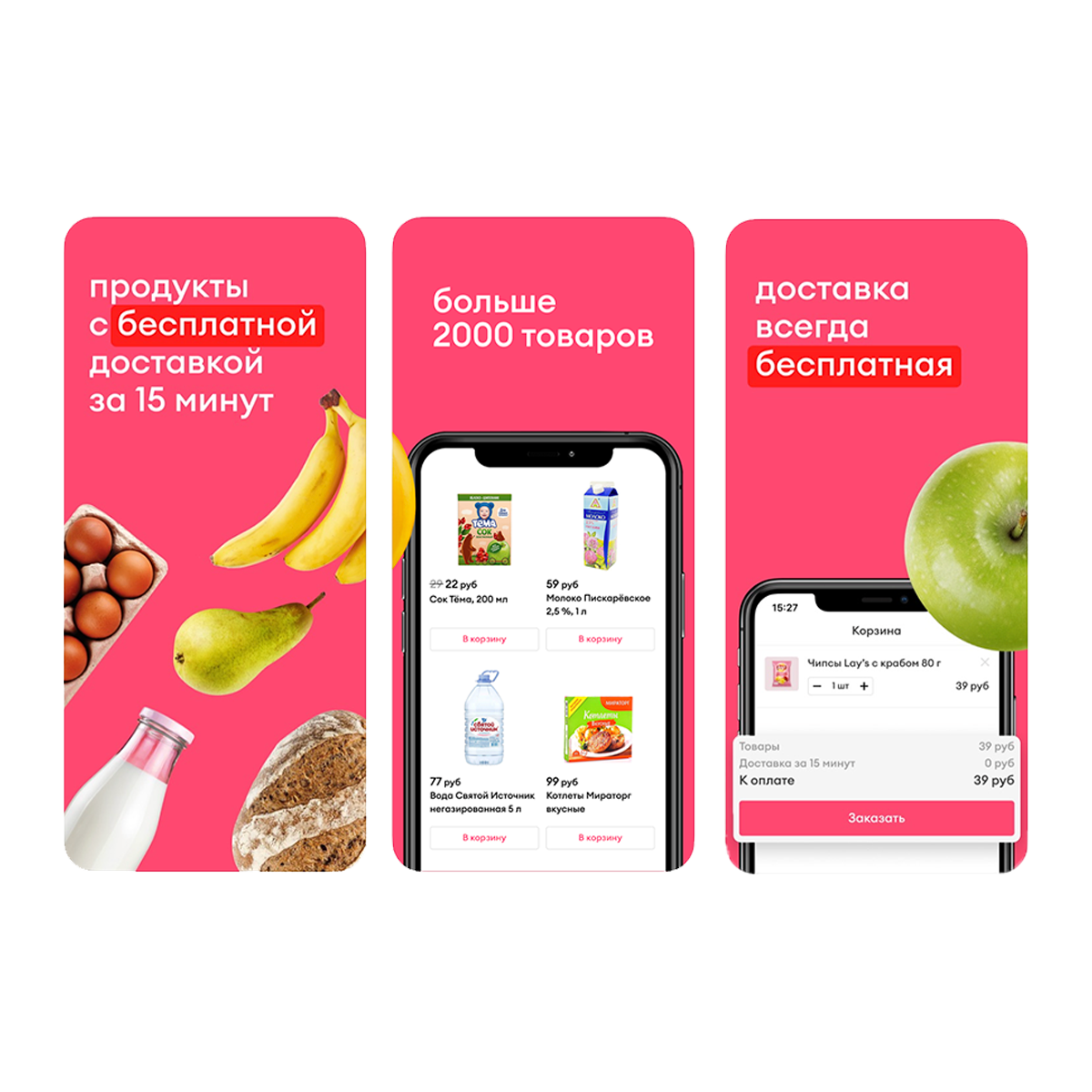 What else makes them so innovative and unique?
Samokat is like a pure online convenience store; focusing on high frequency & small basket size and its offer and prices are accordingly. Their offer is mainly attractive for last-minute purchases, to shoppers that care less about price than quality (at least for these last-minute purchases).

As a result, the retailer mostly appeals to a younger generation and young families. Whether you forgot something or have an urgent need — Samokat is there for you. They have a fresh and modern style and are very active on social media channels; Instagram, TikTok, Youtube, Facebook, and also Russian social media channels such as VK & OK.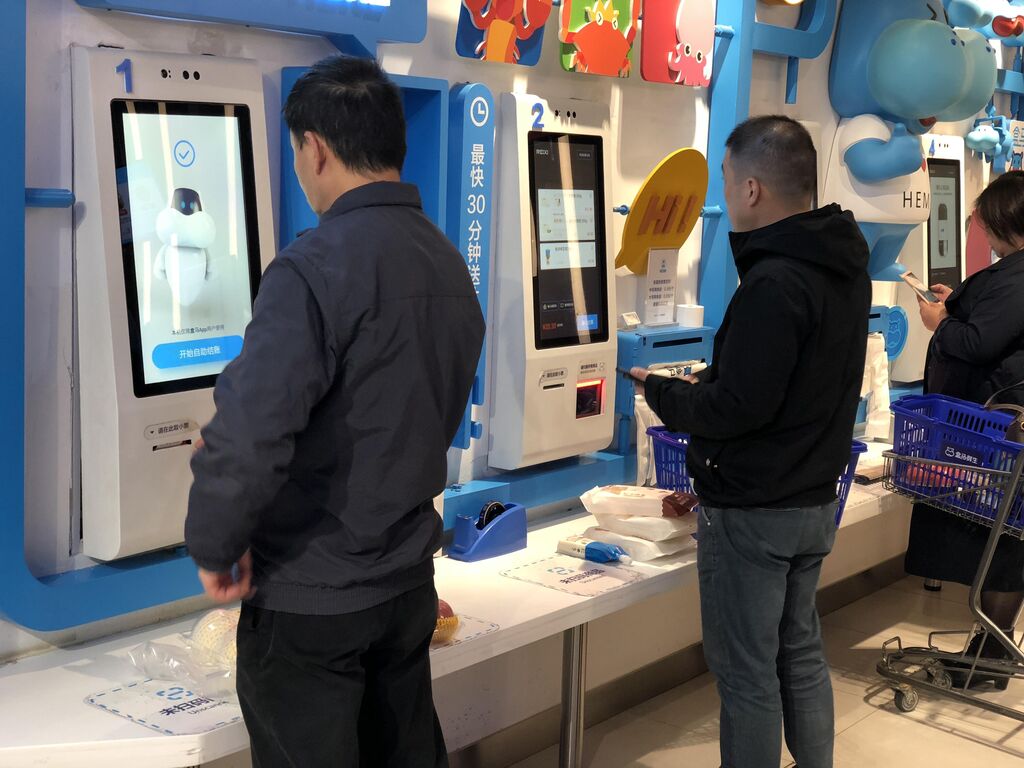 Freshippo
Alibaba's Freshippo is a highly innovative online player from China. As part of the Alibaba Group, they have a strong and solid backbone. Alibaba's view on New Retail is all about the mix between online & offline. Shoppers prefer offline shopping to try out new things and get rich experiences while they prefer online shopping for the utmost convenience. Alibaba's goal is to mix these two worlds in its Freshippo format. Approximately 70% of the turnover results from online orders, 30% from sales in-store. The first store opened in 2015 and currently, Freshippo operates 100 stores. Their proposition is simple & strong:
Delivery only within a 3 km distance from a Hippo Fresh store
Groceries delivered to your house in 30 minutes (within the 1 km range), max 90 minutes
Deliveries are always free of cost
No order minimum
App-only
Only accept payments via AliPay (also by Alibaba) which is China's most popular payment method. Customers can also use 'pay by face'.
What else makes them so innovative and unique?
Most parties in food e-commerce struggle with the offer of fresh products and the perception of quality & freshness. As the name suggests, Freshippo has a strong focus on fresh products. The fresher, the better. When you visit their stores you can experience the products' freshness, they want to trigger all senses. Cooks are preparing food live in-store. The stores include a huge aquarium with all kinds of seafood. But, they go further, they go as far as suggesting that many products, whether it's seafood or veggies, are so fresh that they are still alive at the moment you buy them. Whether customers want to cook themselves with the best ingredients or have a chef prepare something — Hippo Fresh has all they need.
Chinese shoppers are extremely focused on fresh products because of the importance of good food in their culture, but also because of numerous scandals around the quality and freshness of products in China. By scanning a product with your phone in a Freshippo store a customer can find very detailed information of the product, such as; product origin, producer, arrival date in-store, and safety certificates. For meat, it even includes the life cycle of the animal such as date of birth, date of slaughter and date of transport.
Also, to strengthen the mix between off- and online, you can experience the popularity of their delivery service in-store. Groceries are picked in bags in the stores and transported across the rails on the ceilings of the stores. So you will see orders in bags passing the rails on the ceiling while shopping which adds to a very modern & dynamic vibe — that attracts a lot of customers that come to experience it.
In 2019, BrandLoyalty partnered up with Freshippo and introduced digital collecting into its app. By offering a game-like progression and a mini-loyalty programme, Hema has encouraged its shoppers to discover all it has to offer.
Picnic
Picnic is a highly innovative pure online player from The Netherlands. They deliver to your doorstep with their specially designed cute electric carts. Their service is in such high demand that they have a long waitlist for new customers.
Picnic's proposition is simple & strong:
Deliveries are always free of cost
Lowest price
A delivery window of 20 minutes
Every day on a fixed time in your neighbourhood
App-only
Groceries delivered to your house the next day
The order minimum is €35,-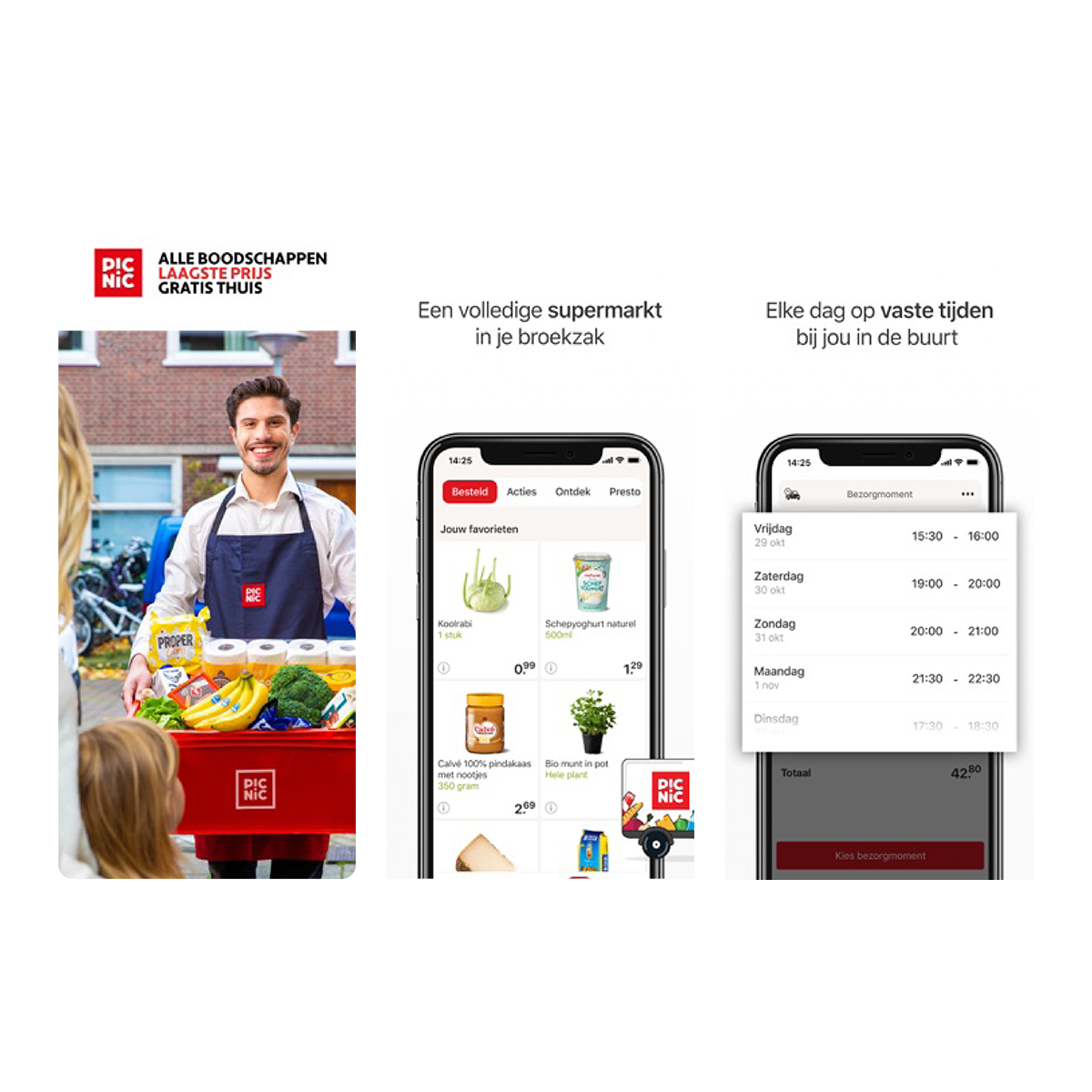 What else makes them so innovative and unique?
Picnic carts ride a fixed route every day through your neighbourhood, like the bus. This gives you the option to select a timeframe each week from the same fixed timetable. For instance Monday 21:00–22:00 / Tuesday 18:00–19:00 / Wednesday 15:30–16:30 etc. On the day of the delivery, they sharpen the delivery window to only 20 minutes. This makes it very convenient in comparison to most other retailers that have a delivery window of a few hours.
Since the service of Picnic is in such high demand, there's a waiting list for new customers. To make waiting a bit more fun Picnic introduced 'wachtverzachters' — literally translated as 'wait softeners'. So, if you are on the waiting list, a free product is added to your (future) basket once in a while. Smart, because the customer can get acquainted with the assortment. And sweet, because your first order will be full of gifts by Picnic. Another innovative aspect of Picnic is its communication of benefits to customers. Picnic updates its customers on everything they have 'achieved' using Picnic's service. For instance, by ordering at Picnic you've avoided 122mm of rain, you will save 10 hours of shopping each month, you've saved 23kg CO2 and you've saved yourself carrying 456kg.
---
This update is a deep dive into the dynamic world of retail. Every month we update you on all the latest news in our monthly newsletter 'Things we see in retail & loyalty'. Loved by retailers, retail & loyalty experts and enthusiasts, this newsletter reaches a global audience. Do you wish to receive the latest in retail and loyalty in your mailbox each month? Get in touch via the below link.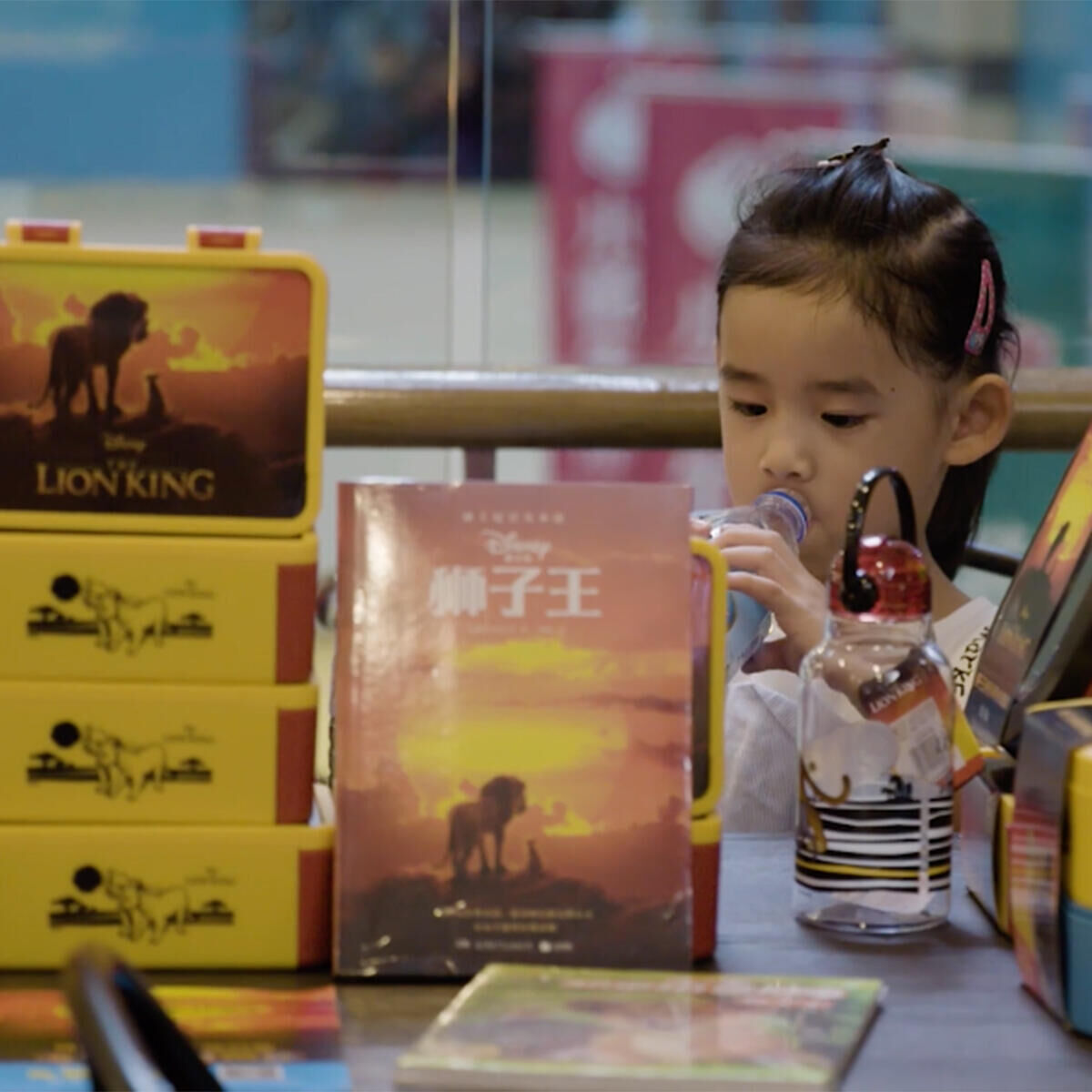 Freshippo creates innovative shopping experience
In 2019, for the first time, Hema (also known as Freshippo) involved a third party in its app development by letting BrandLoyalty introduce digital collecting into its app. By offering a game-like progression and a mini-loyalty programme, Hema has encouraged its shoppers to discover all it has to offer.
Read full case study
Want retail news sent to your inbox?
Get in touch and we will ensure you are included on our monthly distribution of 'Things we see in retail and loyalty', and receive it in your mailbox each month!
Get in touch