Empowering kids through ​Disney Heroes
Entering the UK with a new program concept at Sainsbury's

For the first time, we are running a loyalty campaign with one of the United Kingdom's biggest retailers, Sainsbury's! Together with Disney, we've developed a first-to-market, multi-property Disney Heroes campaign that empowers kids to become the best version of themselves, while at the same time helping Sainsbury's to drive brand warmth.
Feeling market share pressure

Sainsbury's is the second-largest grocery retailer in the United Kingdom, with over 1,400 stores spread across the country. Its slogan is 'Live Well for Less', and its vision is to be the most trusted retailer where people love to work and shop. Up until 2014, the UK grocery market operated under a simple three-tier system. Waitrose and Marks & Spencer catered to the affluent; Morrisons and Asda served the more cost-conscious consumers, and Tesco and Sainsbury's attracted everyone in between. However, that changed with the arrival of German chains Aldi and Lidl, who disrupted that structure. The traditional big players have been forced into a corner, and have had to compete on price while facing increased market share pressure.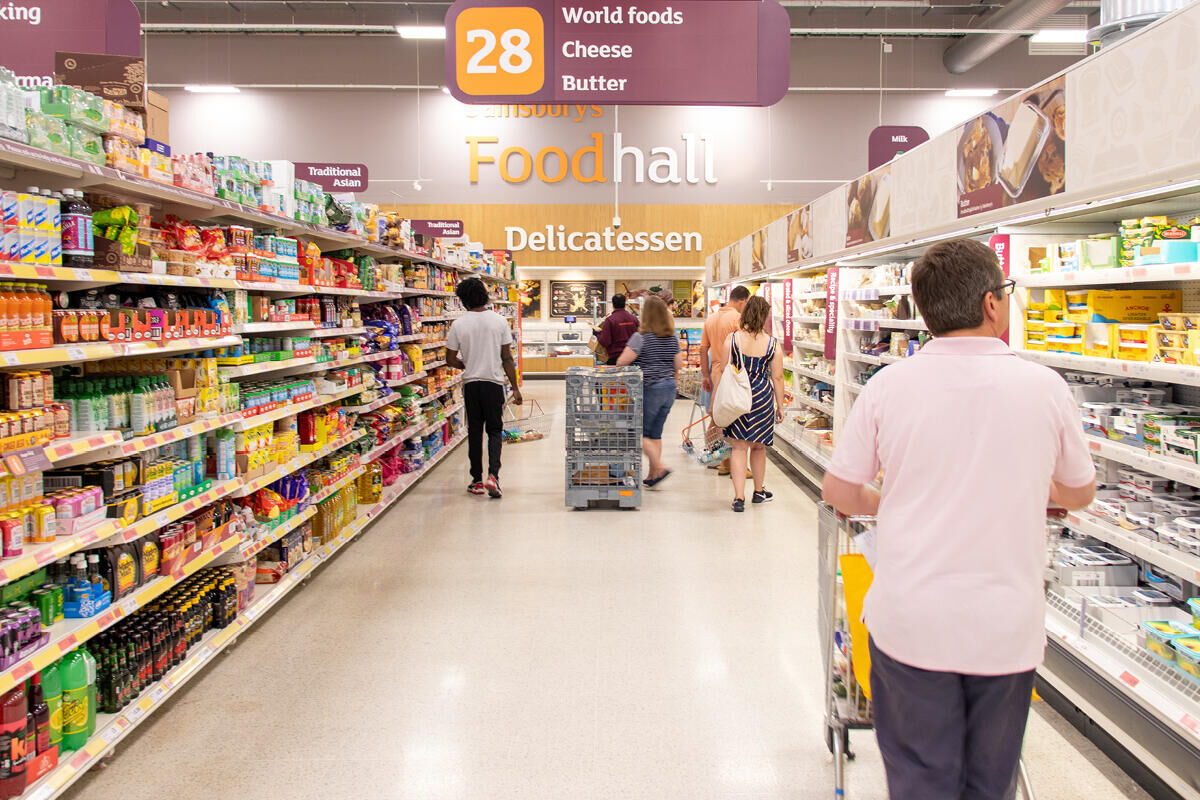 Increasing emotional appeal
Sainsbury's ambition was to create a fresh and distinct marketing proposition to put the focus on things other than just price alone. We, therefore, teamed up with Sainsbury's to create a big children's campaign to boost brand warmth in the back-to-school period of 2019. The target audience was clear: primary school kids, aged between 6-11, from every walk of life, and their parents too. The ultimate goal was to drive incremental sales and enhance the retailer's emotional appeal. The 6-week campaign was launched on 21st August 2019, with Disney Heroes collector cards and albums available in all 1,432 stores across the UK.
Research to identify customer desires

In line with Sainsbury's vision, trust is among the top 3 values recognized in Disney properties by its shoppers. Before the launch of the campaign, the powerful connection between Disney's compelling storytelling and the values of British primary school kids and their parents was proven by our UK Disney Brand Equity Study in cooperation with Kantar Worldpanel 2018. In the research, over 60% of the parents said they would love Disney's involvement in developing a healthier lifestyle for their children. When we asked their kids which movies from Disney, Disney Pixar, and Marvel they liked the most, they gave equally high scores to Star Wars, Frozen, Cars, Finding Nemo and Avengers. Therefore, rather than excluding any brands, we combined them instead.
Introducing a future-proof concept with longevity and evolution possibilities

During the back-to-school period, customers are being encouraged to participate in a brand new Sainsbury's campaign called Disney Heroes. This campaign is about 'unlocking the power in you', to empower kids to become the best version of themselves. It is a tailored concept that brings together all four Disney franchises! The campaign integrates the Disney, Pixar, Star Wars and Marvel worlds into one concept, using the most beloved characters as role models for making healthy choices. For Sainsbury's, this brand concept offers longevity and the possibility to evolve it into exciting follow-up campaign opportunities in the future.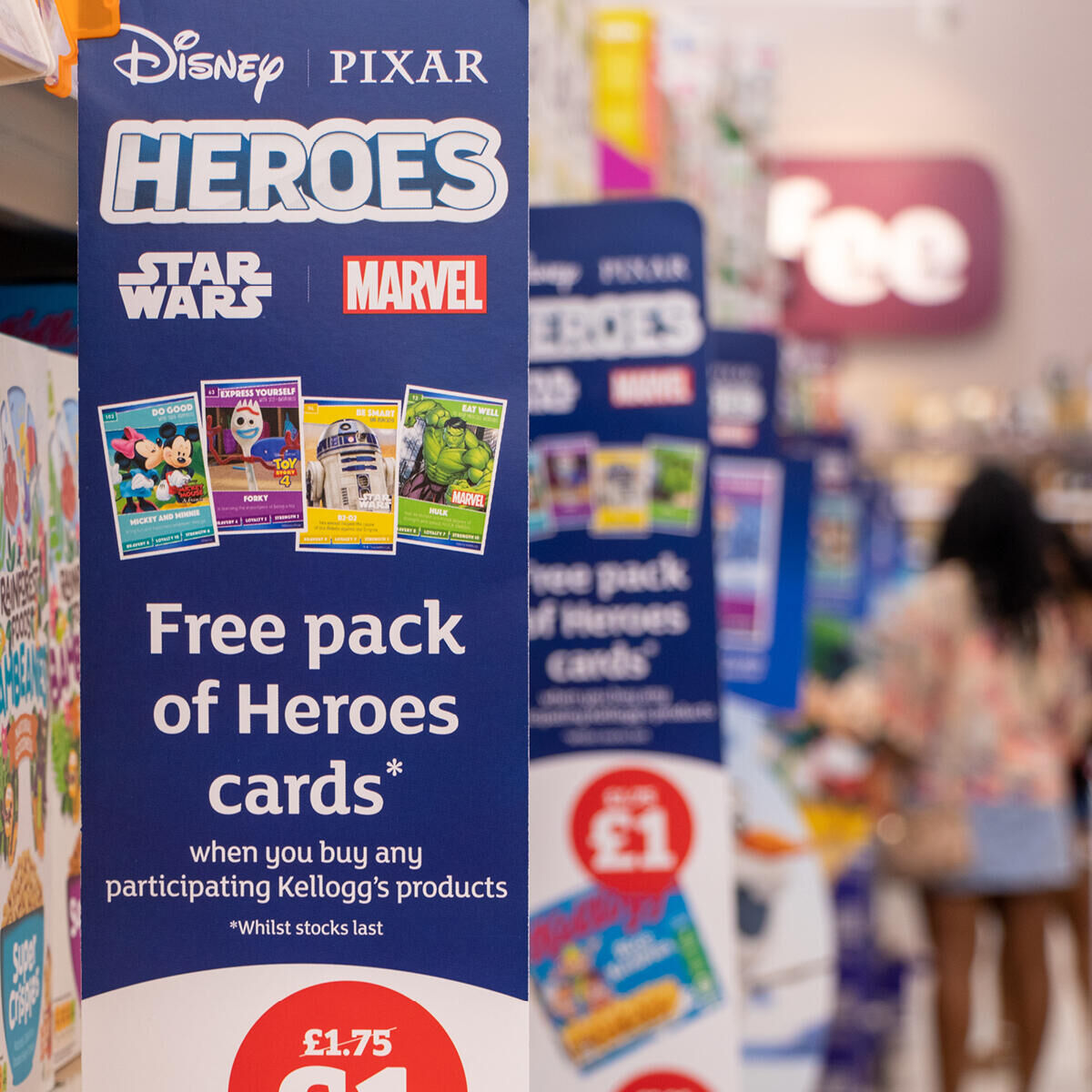 Stimulating kids to make healthy choices

Disney Heroes encourages kids to learn interesting facts, complete fun challenges, and collect 144 trading cards. The album comprises twenty-four ways to UNLOCK KIDS' POWERS under six relevant themes: EAT WELL, GET ACTIVE, EXPRESS YOURSELF, BE SMART, DO GOOD, and TEAM UP. These themes are designed to promote Sainsbury's values of living well. Kids learn interesting facts and can play challenging games with friends while they complete their collections. Special-effect cards are included with glow-in-the-dark, holographic and rub-to-reveal effects.

FMCG suppliers were given the opportunity to be a part of this exciting lead campaign with products relevant to healthy living. The Disney Heroes campaign is aligned to the 'Active Kids' initiative to promote social, mental, and physical development among kids in a fun and engaging way.
In stores now!

The local Disney office provided marketing activation support to help bring the campaign to life in a highly entertaining way. The campaign is running from August 21st, 2019 until the beginning of October 2019. In addition to all the happy faces of British schoolchildren, the first financial results look promising too.
The first Sainsbury's was set up by John James and Mary Ann Sainsbury 150 years ago at 173 Drury Lane in London. Since it first opened its doors, Sainsbury's has helped its customers to live well for less: a philosophy which still shapes its strategy today. The retailer has always had a strong sense of social, environmental and economic responsibility, and is committed to ensuring it earns the trust of everyone who shops there.
Like to see more case studies of Disney programs?
Disney's Movie Moments program created a lot of happiness among the shoppers of Plus supermarkets in the Netherlands.
See Movie Moments
Contact us for more insights and results of our programmes
We have 25 offices across the globe. Go to our contact page to get in touch with our colleagues on your nearest office.
Contact us